How to Speed Up Internet Explorer
: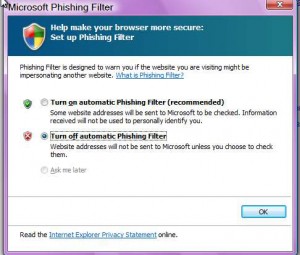 "Turn off the phishing filter. This feature sends URLs embedded in pages you are viewing to Microsoft for inspection. If Microsoft determines there is a risk of a phishing exploit behind a URL (never mind how), it sends you a warning pop-up. You have to wait while that round-trip is made, slowing down your browsing. It is faster to rely on a desktop anti-malware app such as Avast! Antivirus. To disable IE 7's phishing filter,
In IE, click Tools, then Phishing Filter, then "Turn On Automatic Website Checking."
Click the "turn off" radio button on the pop-up window."
'via Blog this'